(English) Stop the #CensorshipMachine
Stop the #CensorshipMachine, by asking for a copyright law that respects our rights and freedoms.
A new copyright reform is taking place in the European Union. A reform that proposes to make the big Internet companies the judges and police of the Internet, turning it into an immense machine of censorship.
We must act to defend our:
Freedom of expression
Freedom to educate
Freedom to make Memes
And if I tell you that memes everywhere could disappear.
Freedom of parody
– All content generated by users must be monitored and filtered.
– Mein Führer, but there are exceptions and limitations …
– I do not give a damn about the rights of users!
Freedom of Remix and Mashup
Freedom to make Gifs
Freedom to dance with music
Freedom to do Wikis
Freedom to quote
Freedom to play games
Freedom to play music
Freedom to do Cosplay
All this content and more could disappear if the Censorship Machine is created.
We can still prevent this from happening.
Ask your MEP to stop #CensorshipMachine at:
Https://savethememe.net
Ask them to speak up for a copyright law that respects our rights and freedoms and does not destroy the Internet.
This mashup can also be censored so
Spread the word and share!
🙂
STOP THE
#CENSORSHIPMACHINE
This campaign is carried out in coordination and with the support of:
EDRi, EFF, La Quadrature du Net, Bits of Freedom, Open Media y Epicenter.Works.
BACKGROUND
Far from reforming copyright law to update it in light of the new ways of communicating and sharing information in the digital age and of the innovative and economic potential of digital, the European Commission has simply granted big media lobbies and audiovisual companies their wish list, in a clear push back against the Internet.
In particular, its Article 13 and Recitals 37-39 require websites, platforms and online services to develop a #CensorshipMachine that allows for the systematic and massive monitoring of user uploaded content, filtering out any content "identified" by Copyright holders.
These automatic recognition mechanisms would compare the uploads of the users with enormous databases of works that the massive cultural industries would keep on feeding into with anything they feel like. This system clearly favors large companies, which have the legal resources and equipment to dedicate themselves to feeding all these databases, to the detriment of new independent and small authors and creators that do not benefit from these administrative and legal resources.
Rights and Freedoms
This automatic filtering does not function on the basis of what is legal or illegal, but based on what has been flagged by copyright holders, and it would erase all existing copyright exceptions by a stroke: our right to quotation, parody, for educational purposes, for public interest … and other totally legal forms of freedom of expression that an automatic censorship system would not be able to evaluate as legal and free forms of use of these contents subject to copyright.
A censorship machine in the hands of copyright trolls that would make disappear most gifs, memes, videocritics, parodies, covers, tutorials, gameplays and many other everyday content on the Internet.
Moreover, the proposal would legally hold responsible and hence liable any Internet services and platforms that would not have taken the necessary measures to implement the filtering if user uploads on these platforms include copyright infringing content. To prevent these legal liabilities, companies would be forced to aggressively monitor and preemptively eliminate content, making them the Internet police and placing the European Union in the area with the world's most restrictive Internet network. This is an unprecedented attack on freedom of expression and information.
You can find the list of exceptions and limitations to which we are entitled and are threatened here: Exceptions and limitations to copyright in Spain.
Copyright reform should be a positive action, and not undermine our rights. It should focus on identifying and harmonizing all the exceptions and limitations in place throughout the European Union in the various Member States, which allow the free and legal use of works subject to copyright, for reasons of public interest or in situations where there is no prejudice to the copyright owner.
Potential for innovation in the economic cycle
The reluctance of cultural industries to adapt to the new digital ecosystem, pushing for disproportionate ad hoc legislations such as the Censorship Machine, crush the creative and innovative potential of digital society.
In a context in which the line that separates creators and consumers of culture is increasingly blurred, the future of cultural development lies in taking advantage of new ways of creating and sharing culture, information and knowledge to build a culture economy that is not built on monopolies.
Examples like the song "Somebody that I Use to Know" by Gotye highlight this. As you can see in the statistics the original video of the song went unnoticed  until January 2012.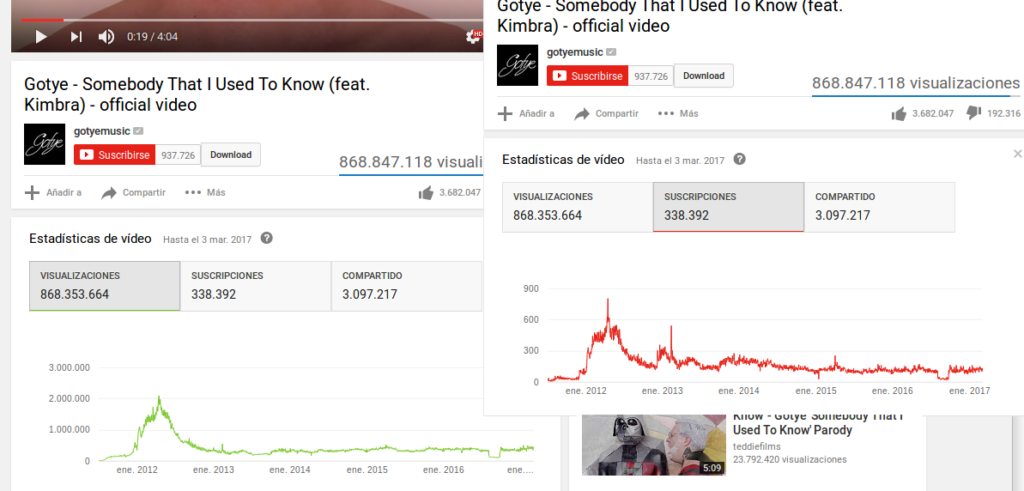 At this moment, Walk off the Earth, a small group of covers uploaded on youtube, is getting an astronomical number of views with its viral cover of Gotye's song, using a guitar with 10 hands.
[embedyt] https://www.youtube.com/watch?v=d9NF2edxy-M[/embedyt] Gotye
could
have censored that video by claiming his copyright. On the contrary, he recognized the creativity of the emerging band, whose viral adaptation rendered his work more popular than ever before, bringing tens of thousands of visits and subscribers to his channel. Gotye himself responded to the flood of covers of his song that followed with a mashup video tribute: "Gotye – Somebodies: A YouTube Orchestra." Gotye, Got it.
[embedyt] https://www.youtube.com/watch?v=opg4VGvyi3M[/embedyt] The proposed copyright reform would also have dire consequences for the economy and the competitiveness of small and medium-sized enterprises on the Internet. Giants like Google or Facebook can assume the economic costs of developing and deploying this software, but services and small websites that allow the uploading of content by their users and cannot afford the development or license costs proposed through this new system, will have to close or face huge legal responsibilities.
No memes, no Democracy
Once these technologies have been developed, there is a great danger that governments will decide to use them too, to filter other types of content. For example, to suppress LGBTI content in countries where homosexuality is persecuted or to eliminate discourses contrary to the established political regime and suppress satires of public or political figures.
#SinMemesNoDemocracy
[Ed. Note: This post originally appeared on Xnet's website]
[embedyt] https://www.youtube.com/watch?v=qAcTeYtUzQY[/embedyt]